As a commitment to keep innovating, serving happiness in customers' daily life, and giving an offline soulfull experience, F&B ID (PT Foods Beverages Indonesia), company founded in 2011 that holds all brands in the Food & Beverage business pillar of Kawan Lama Group, has officially launched the first soulfull hub by F&B ID in Darmo Street Number 99, Surabaya, East Java at 17 February 2023. soulfull hub by F&B ID presents a dine-in restaurant concept that offers a different and unprecedented experience, a modern hangout place that is more than just dining but is also specially designed to support various activities such as studying, working, socializing, or just having a relaxed time.
soulfull hub by F&B ID is ready to welcome customers with its unique and instagrammable interior, complete with the outdoor green area that allows visitors to dine and interact in the open air. There are more than 80 seating areas in both indoor and outdoor, private rooms that can accommodate up to 16 people, a perfect place for having a discussion, working, or other activities. soulfull hub by F&B ID also provides an internet connection, making it suitable for remote working, doing coursework, or just hangout while enjoying tasty food and drinks from various F&B ID brands, such as delicious drink menus from Chatime, Korean rice bowl & street food from Cupbop, the number #1 takoyaki in Japan that is crispy outside and creamy inside from Gindaco, and authentic curry from Kanazawa, Japan, by Go! Go! CURRY - Genki no Minamoto (GGC), all under one roof. The opening of GGC in Surabaya also marks the second GGC store in Indonesia, after the first GGC store opened in Living World Alam Sutera, Tangerang, at the end of 2022.
The opening ceremony started at 9 AM, attended by media and content creators. Marked with a ribbon cutting, followed by the introduction of F&B ID by Devin Widya Krisnadi as Business Director of F&B ID, and a store tour to see facilities offered by soulfull hub by F&B ID. After that, visitors were welcome to enjoy various food and beverage of F&B ID. An exclusive interview with the Management of F&B ID ended the first batch of the event.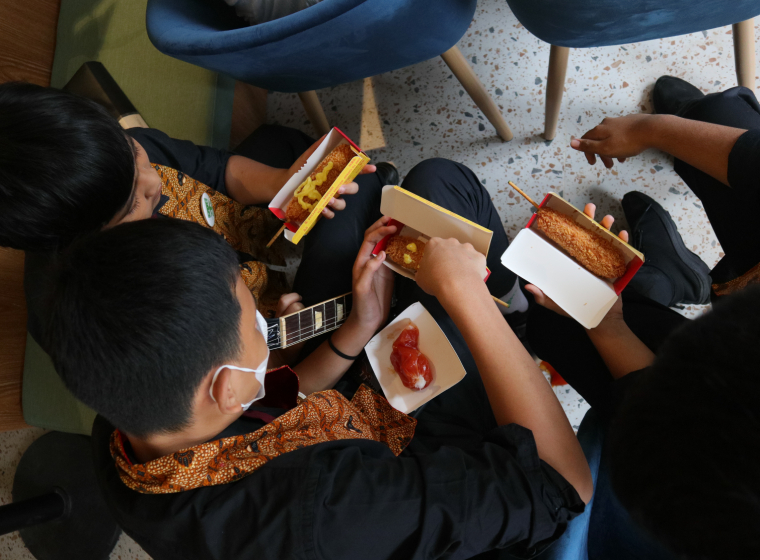 Batch two focused on member gathering, starting at 1.30 PM, with the introduction of the soulfull hub by F&B ID and Q&A session. The soulfull activity was also enlivened with hotdakk decorating, which ended with visitors trying various food and beverage from Chatime, Cupbop, Gindaco, and GGC. And while enjoying the food, Santa Maria Junior High School entertained visitors with the dance and orchestra performances, and the event finished at 4 PM.
A visitor, Ugie, excitedly told her experience, "First time heard about a new place for hangout in Darmo, I brought my friends to come together right away. Surprisingly the place is very comfy, with indoor and outdoor areas, and various delicious meals. My favorite is the creamy Hazelnut Chocolate Milk Tea from Chatime, and also Chicken Katsu Curry from Go! Go! CURRY - Genki no Minamoto with savory, thick, and authentic curry from Japan."
At the same place, Dimas, a private sector employee expressed his first impression, "This place is very cozy, also the internet connection is good, such a great place to work from a cafe. A very recommended new place for work or hanging out with friends, lunch with rice bowl from Cupbop, and Takoyaki from Gindaco for snacking time."
Aside from rapid business expansion through opening new stores and brands, F&B ID is committed to contributing to the environment with Chatime initiated #GerakanSapu Plastik (sweep the plastic) in February 2022. Celebrating one year since its launch, Chatime urges all visitors of the soulfull hub by F&B ID to participate in reducing the impact of plastic waste, by putting used Chatime plastic cups or any other plastic cups and bottles into the dropbox that is available at the soulfull hub by F&B ID and also 30 Chatime stores in Jakarta, Tangerang, and Depok. Then the collected cups and bottles are processed and created by MSMEs into various high-quality upcycle products, such as bags, pouches, prayer mats, and animal beds. #GerakanSapuPlastik is an upcycling initiative in a circular economy. In one year, this movement successfully collected 1,000 kg of plastic waste equal to 70,000 plastic cups and reduced five tons of CO2e carbon print.
Devin said, "We hope the soulfull hub by F&B ID can be a fun hangout place in Surabaya, a perfect place to relax while enjoying our delicious menus, have discussions or work, and various other activities, either by communities or groups, using comfortable and wide indoor and outdoor areas, private rooms, and internet connection. We see that Surabaya is a city with great potential and enthusiasm after seeing the opening of Chatime Atealier, Cupbop, and Gindaco in Galaxy Mall, in March 2022. Hopefully, we can keep serving simple happiness to all F&B ID customers."