National Blood Donation program carried out regularly by Kawan Lama Group finally resumes this year, after two years postponed due to the pandemic. This year's program took place at 46 ACE and INFORMA stores in various cities in Indonesia during December, and successfully collected more than 2,000 blood bags, making the total amount collected since the first year of the program in 2015 until this moment achieve over 20,000 blood bags.
The program was started with registration process of the donor, to get blood type data, followed by blood pressure, body temperature, and medical history checking – to make sure that the donor is eligible to donate blood. After all clear, the donation process was run.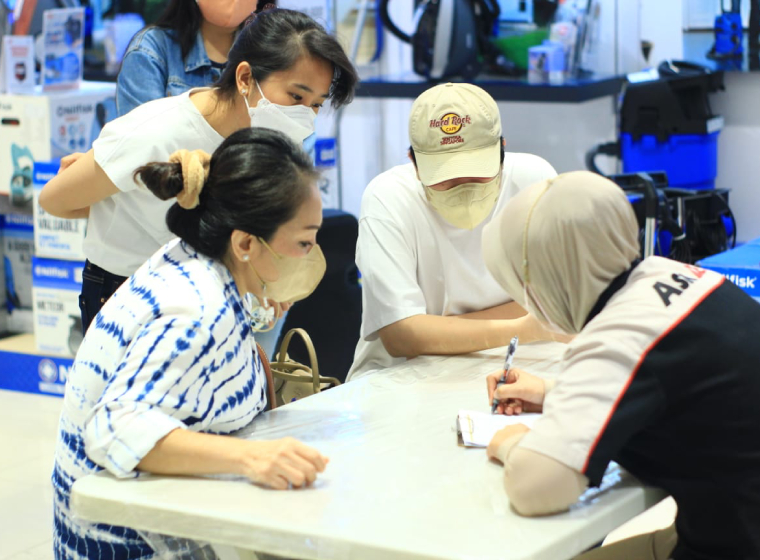 A private sector employee, Taufik, met after donating blood at Living Plaza Sawojajar, Malang expressed his cheerfulness, "Thanks to Kawan Lama Group for this blood donation event. Besides good for health, blood donation can also help others or as a charity."
Similar appreciation came from Rafi, Staff of PMI Malang who was on duty at the same location, "I am grateful to Kawan Lama Group for providing this place and cooperating with PMI for holding this blood donation event. Hopefully in the future, the same event can be held again even better."
Melinda Pudjo as Vice President of Corporate Affairs, Communication & Sustainability of Kawan Lama Group stated, "National Blood Donation Program is a social contribution in the pillar of health, initiated by Kawan Lama Group since 2015. We are glad the event can be held again, so employees and customers can donate their blood to help others, because the purpose carried by this program is an implementation of our commitment, bringing values for the betterment of lives. Energy and enthusiasm from all parties that take part in the event, especially the donors, encourage us to keep making sure that the National Blood Donation program can run successfully. Also the program is expected to arouse awareness to help each other and enhance brotherhood among us. Our hope is that the program can keep running for the years to come, as a token of Kawan Lama Group's commitment concerning humanity."